A Maine wedding reception of 55 people left more than half of its guests infected with COVID-19, affecting a total of 176 people despite Maine's current public health guideline of a 50-person limit for indoor gatherings. Seven people have already died, but what's more disturbing is that they did not even attend the wedding.
The management of Big Moose Inn, where the wedding was held, said that they misinterpreted the state's 50-person cap for indoor events. "We did make an error in the interpretation of that rule," the management said in a statement. "Our interpretation was that we could take a wedding party of more than 50 persons, and split them between two rooms as long as it didn't exceed our total capacity or a specific room's capacity."
How Did It Spread So Far and So Fast?
According to Dr. Nirav Shah, the director of the Maine Center for Disease Control and Prevention, one of the guests who attended the event infected their parents, who then infected one of their children, who infected their co-workers. All of these events happened within a span of 2 ½ weeks.
Outbreaks at the Maplecrest Rehabilitation and Living Center and the York County Jail were connected to the wedding after one staff member from each facility was found to have attended the event. The York County Jail, which is 200 miles away from the wedding reception, now has 80 cases confirmed while 39 people from the rehabilitation center have tested positive.
Health officials have traced cases linked to the wedding throughout August, with 24 cases initially. By the end of the month, it grew to 123 cases and by September 3, the recorded number was at 143.
Maine has recorded 4,415 COVID-19 cases since the beginning of the pandemic, with an average of 29 per day. The US has had 11.3 million cases of COVID-19 to date, with 247,000 deaths and counting.
Mass Gatherings: How Many is Too Many?
Social distancing has been a key phrase in the past months, being the most important factor in preventing the spread of the COVID-19 outbreak. However, despite social distancing measures, other factors come into play, such as how susceptible we are to infection, the frequency of contact we have with people, and the duration of those contacts.
Respiratory infections appear to be the most common infectious disease transmitted during gatherings. The World Health Organization has advised governments to seriously consider postponing any gathering that brings people together, potentially amplifying the virus through close contact.
And while everyone wants to know what exact number of people is too many, what really matters is keeping gatherings small and considering the social dynamics that may be involved in the crowd. The sheer size of the group is not the only factor to consider; for example, small groups of five people can be as risky as a big event with 100 people. There is no magic number that we can consider safe for gatherings, but reducing the amount of contact is absolutely necessary.
Wear a Mask; The Pandemic is Far from Over
The Centers for Disease Control and Prevention has defined close contact as spending 15 consecutive minutes within six feet of another person. However, avoiding close contact along with other preventive measures such as washing your hands regularly is not sufficient in providing the adequate protection you need against viruses. It is a must that you use a face mask in order to suppress transmission not only to save your life but also the lives of others. It protects people who are at high risk of getting infected, such as those over age 65, and those with chronic lung diseases or weak immune systems.
Wearing face masks in public places also helps you avoid respiratory droplets that transmit viruses. It's important to wear one inside stores, restaurants, offices, schools, and public transportations. Face masks are particularly necessary for places where social distancing is difficult to maintain.
Which Face Mask Should You Use?
While ordinary cloth masks are common, they will not really provide you with the necessary respiratory protection. Surgical masks, on the other hand, are not designed to seal the face to protect your lungs against airborne particles. Instead of using a cloth or surgical mask, use a respirator that fits snugly instead and ensure that there are no gaps in between for an effective seal. Check to see if the product is a certified respirator for your needed respiratory protection.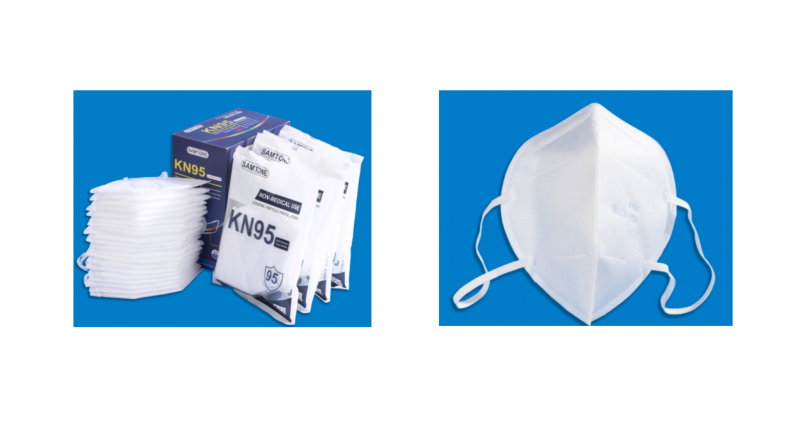 SAMTONE KN95 4-ply face masks provide 95% filtration (equivalent to N95) for non-oily suspended particles of 0.3-micron levels, airborne particles, pollens, allergens, and viruses such as the coronavirus.
Used and recommended by healthcare professionals to reduce exposure to airborne particles, bacteria, and viruses, they seal the face so that air passes through the filter before inhaling it. Unlike regular surgical masks, a KN95 mask does not allow air to pass through the edges, giving you your much needed respiratory protection.
Be sure to wear a KN95 mask every time you go to public places or events. By keeping each other safe and protecting one another, we can slow the spread of COVID-19.
Stay safe by stocking up on SAMTONE KN95 masks now!
We may earn a commission from links on this page, but we only recommend products we back. Newsweek AMPLIFY participates in various affiliate marketing programs, which means we may get paid commissions on editorially chosen products purchased through our links to retailer sites.